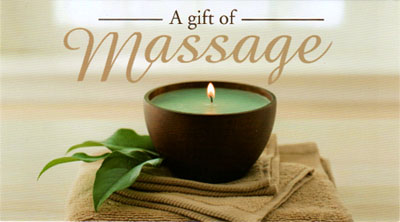 Purchase a Gift Certificate Online Here



All Gift Certificates are sold at face value and are available in person or through my GiftCardCafe account online. I am not always available in the office to sell gift certificates so purchasing online is safe, easy, and convenient.
Printing the certificate is not required. I can verify your purchase without the printed certificate.
Gift Giving? Great!
I do encourage printing the certificate if you are gift giving! If you want to give the certificate at a later date email the certificate to yourself instead of the intended recipient. You may then print the certificate and give it whenever you like instead of gifting to the recipient on the same day as your purchase.
Are you buying a massage for a current client? Send me an email to get a special discount code! amanda_cmt@hotmail.com
Re-booking clients (who get $20 off their session) can always purchase gift certificates at the same rate you pay
No refunds; all sales final. Valid only with Mandi Bradford, LMT

Gift Certificates DO NOT expire
I will always accept an expired gift certificate for the amount purchased. If there is a date listed as expiration, it is simply a suggestion so that the gift is used in an appropriate time frame & not forgotten about

Cancellation Policy:
In the event that you need to reschedule or cancel your appointment please contact me as soon as possible- it is greatly appreciated! Email, text, and phone calls are all appropriate ways to contact me.

You may cancel or change your appointment up to 24 hours in advance of your treatment without penalty. For changes or cancellations less than 24 hours in advance, you will be charged $25 forfeiture fee. If you fail to show up for your appointment or cancel within one hour or less, you will be charged in full. Treatment time is not extended for late arrivals. If you have a gift certificate and do not provide a 24-hour cancellation notice your voucher will be marked as used.